For the Bergdorf Goodman virtual jewellery trunk show, Mukherjee and Armata showcased three collections — Chowringhee, The Sudder and Bengal Royale — which are part of the designer's collaboration with the store
---
---
When Sabyasachi Mukherjee talks, you listen. Even if it is a visibly technophobic man indulging his countless fans by reading out comments to make up for the delay in his Instagram Live session with Bergdorf Goodman's Beth Armata, possibly unbeknownst of the fact that the thousands watching him would have gladly waited through many more such technical glitches and minutes to be simply granted his audience. As for the comments, most of them were unsurprising claims of undying fandom for his craftsmanship but good-naturedly, he even read out one saying "Give me a job!!!". After profuse apologies for the technical recalcitrance were out of the way, began the Sabyasachi X Bergdorf Goodman extravagance as Armata, manager, fine & designer jewellery at the iconic 120-year-old New York luxury store picked out one deliciously exquisite piece of jewellery after another for the designer himself to talk about.
For the Bergdorf Goodman virtual jewellery trunk show, Mukherjee and Armata showcased three collections — Chowringhee, The Sudder and Bengal Royale — which are part of the designer's collaboration with the store. Mukherjee's three-year-old jewellery brand that, in Armata's words, "was the #1 trunk show in all of Bergdorf Goodman for the year", is a long way coming from his days of yore of making jewellery along with Gariahat hawkers and a longtime coming, given his incredible rise to fame since then. But city-proud Mukherjee never fails to doff his hat to Calcutta, be it through his brand name, his clothes or now, through his jewellery.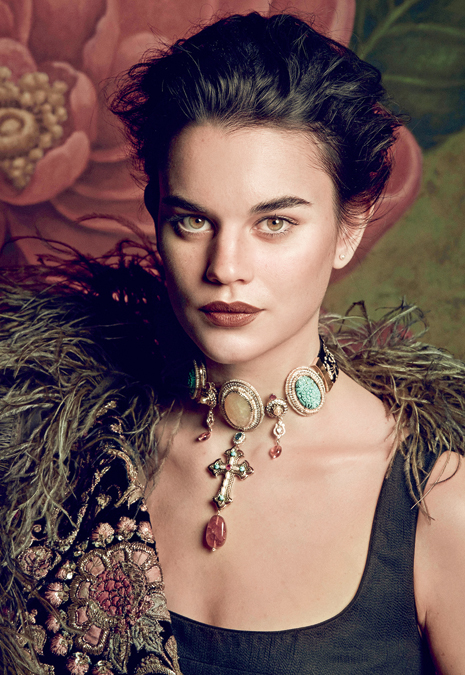 Amidst reiterations of "I love this!" from Armata, the articulate Mukherjee went on to describe each piece from the three collections that were inspired by the quintessential lived-out past of Calcutta's well-heeled, well-dressed and cultured ladies "who used to play bridge and mah-jong with their coiffed hair". Perhaps Mukherjee's prowess in design lies in how he creates an aesthetic he calls "Calcutta Gatsby", with inspiration found in Austrian artist Gustav Klimt or how he makes a stunning necklace made of diamonds, pearls, ruby, tourmaline, opal, turquoise, coral, black onyx, amazonite, citrine and iolite, set in 18k gold and then nonchalantly describes it as "baroque fungus growing on rock" that is born out of casual whimsy! But it could also be in how he makes jewellery by marrying Frida Kahlo to Klimt or by making Klimt meet a Mughal princess! There's also the paradox of combining inspirations from Madonna's Like a Virgin and Like a Prayer — and I could go on.  
While Mukherjee recounted how seeing one particular necklace as a branding inside the elevator at Bergdorf's made him realise how far he had come from his early days in Chandernagore, where "a new Levi's store" was considered by an acquaintance as a yardstick for the city's fashion forwardness, Armata retold the now-famous story of how the store made kerbside sales of his jewellery on the opening day after the pandemic and how she surprised the buyer with a midnight call (IST) to the designer.
Each item showcased in the trunk show was reminiscent of all things Indian but I daresay that one of the reasons why Mukherjee has succeeded in commanding global interest in his jewellery is because he is unafraid to combine a giant opal with expensive uncut diamonds or an industrial-finish wire setting around a loosely-hanging stone with that of a traditionally set polki. And more than once, Mukherjee mentioned how he could see his jewellery being worn with a pair of jeans and a white shirt, apart from the usual scenarios of wearability, which makes Armata's eventual distinction for the designer as a "trailblazer for fine jewellery at Bergdorf Goodman" completely plausible. His tested eye for detail seamlessly extends into his jewellery line as he pays attention to the setting, clasp and the rear of every piece.
Pieces designed for Katy Perry, Ranveer Singh and Deepika Padukone also found place in this trunk show, alongside a multitude of stunning pieces with the allegories ranging from the Bengal tiger casually roaming around the setting of a giant stone in one necklace or swaying coconut trees enamelled on to a rich velvet clasp. Sabyasachi Calcutta, as the brand name and aesthetics go and extend to Sabyasachi Jewellery as well, is luxuriously local with its heart in the heritage of our land, while continuing to make global strides, as somewhere in the middle of the 50-odd-minute session, Mukherjee affirmed with a smile — "Luxury was born in the east and will go back to India again."
Source: https://www.telegraphindia.com/culture/style/sabyasachi-the-haute-joaillier-with-his-heart-in-calcutta/cid/1791963