The Bengal Christian Council, affiliated to the National Council of Churches in India, had called a meeting in remembrance of Father Stan on Thursday
---
---
The death of Father Stan Swamy has taught "minorities to be alive" and unite or else "your voice will not be heard", Reverend Paritosh Canning, the bishop of the Calcutta diocese of the Church of North India, said on Thursday.
Father Stan, a Jesuit priest and tribal rights activist, died in judicial custody last month while waiting for bail. He was 84 and ailing.
Reverend Canning said Father Stan was a Christian priest but his work was "not only for Christians" but for "the tribals who are downtrodden", in one way "minority", and he came forward to give them "new life" and tell them they had rights in their own land.
Father Stan was condemned so that "tribals do not know their rights", said Reverend Canning.
On Thursday, the Bengal Christian Council, affiliated to the National Council of Churches in India, had called a meeting in remembrance of Father Stan. At the event at St Paul's Cathedral, a minority forum was inaugurated with a call to all minorities to come together.
Speaking on the occasion, Reverend Canning said: "They (the tribals) should not be like us, they will be like tribals all the time. They will be like servants lifelong…. This is the cause why Father Stan… was killed…. It was not a normal death."
Later, on the sidelines of the event, the bishop said: "His death has taught us that the minority voice is not heard even many years after Independence. So we have to be united. It is a matter of great sadness that even after so many years… we are having to talk about minority rights. It is a matter of shame. After so many years the people of India have failed to provide minorities their place."
At the inauguration of the minority forum, Bishop Canning, also the president of the Bengal Christian Council, said "minorities are dying in jail and nobody is hearing".
Other people are getting bail but not the minorities, he said, asking: "Why? Where are we living? Is there a place for the minorities in the country or not?"
In the audience were many priests of the Calcutta diocese and representatives of several communities.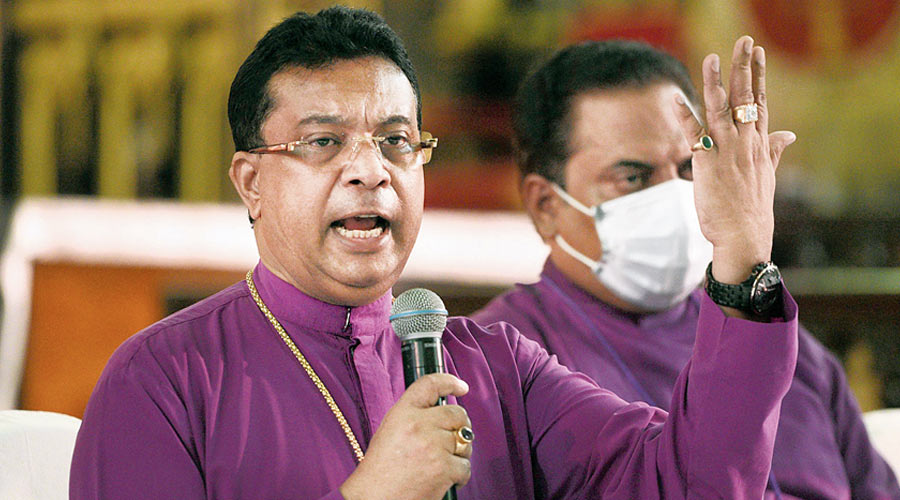 "…Father Stan's life, death, has taught us to be alive, minorities have to be alive, otherwise like Father Stan, you will be in trouble tomorrow…. Tomorrow your turn is coming… Your voice will not be heard. Nobody will care for you. You will die, not maybe in jail, but somewhere else. You will be killed. This is the status of minorities in India," said the bishop.
"Father Stan's death has taught us, as minorities, please be united…. His blood is saying to us today 'please minorities, come together, be united. Otherwise, you will be treated as I am treated'".
A statement issued on Thursday by Reverend Canning, and read out at St Paul's Cathedral, said: "…The prevailing circumstances call for a deep introspection on part of the minorities in India to discern the sign of the times and come together in a Forum with renewed vigour to move forward to make our voices heard, to safeguard our Constitutional rights and responsibilities and let us start this from Bengal, the birthplace of Renaissance in India.
"Today, as we are standing in the crossroads we feel that such an extraordinary situation calls for an extraordinary action/initiative.
"We, the Christians of Bengal, under the umbrella of Bengal Christian Council… as justice and peace loving citizens, strongly condemn such inhuman and mindless acts on part of the central law enforcing agencies (under the current dispensation) and denial of the fundamental freedom of life and liberty enshrined in the Indian Constitution to an individual who belonged to the minority community."
The statement said: "This is our fond hope, our cherished desire and our fervent prayer that we, the minorities in India take lesson from the life of Father Stan Swamy in the rapidly changing scenario of our country and move on till we reach our goal of justice, peace, fraternity, feeling of brotherhood/sisterhood, mutual care and concern and integrity of creation."
Earlier, the bishop said the minority forum, of which he is convener, "will see that our voice is heard".
"Will see that we are noticed, we are respected."
The forum will hold seminars, conferences and workshops on minority rights.
"Minorities will decide tomorrow who will form the government, provided all minorities come together," the bishop said.
Like a pledge, the audience repeated after Bishop Canning: "We will teach Article 29 and 30 (to) every minority person in Bengal and in India. And we will fight for our rights, together. We will not be selfish. We will work for everybody."
The articles guarantee certain rights to the minorities.
Also present on Thursday was Reverend Sameer Khimla, the bishop of the Durgapur diocese, and Angelina Mantosh Jasnani, the president of the Catholic Association of Bengal.
Source: https://www.telegraphindia.com/west-bengal/calcutta/time-for-minority-voices-to-be-heard-says-bishop-of-calcutta-diocese-of-church-of-north-india/cid/1825449