Indian classical legend Pandit Jasraj passed away at his New Jersey residence in the US at 2.45 pm IST due to a cardiac arrest. He was in the US when the coronavirus lockdown happened and decided to stay back in the country.
The recipient of the highest civilian honours of India — Padma Shri (1975), Padma Bhushan (1990) and Padma Vibhushan (2000) — shared a deep connect with Kolkata, where he spent a major part of his early life. City-based classical musicians expressed grief on his demise, while remembering his jovial personality and dedication to his craft. Read on…
Uncle
ji
used to drop by to surprise us: Ustad
Rashid Khan
I have known Uncle ji since my childhood. He used to drop by at Durga behen's (Durga Jasraj) events to surprise us. I would usually be informed of his arrival during or before my performances and discovered him at the green room. Gale lag jate the. When my elder daughter was four years old, I remember being at my friend Paul Mehta's house in the US. Uncle ji was there too. During one of his practise sessions, my daughter sneaked in. Listening to the sound of the instrument, she asked him, " Dadaji, dadaji, yeh Hamsadhvani hai na?" Uncle ji was elated. He made my daughter sit with him and asked her to sing.
Another incident that comes to my mind is from Jaipur. Uncle ji was supposed to perform on Day 1 and I, on Day 2. He told me, " Beta aaj mera gaana mat suno." But I insisted and stayed back for his performance. It was mind-blowing! I told him, 'Uncle ji, aap itna achha gaye aaj'. I think that was our last meeting, about two years ago. I hope his disciples carry forward his legacy successfully.
Today, I feel the pain of losing a senior: Pt Ajoy Chakraborty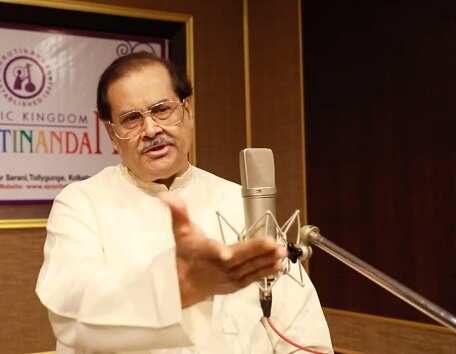 I was introduced to him in 1981. I think it was at a sangeet sammelan. Ever since, we had a journey that was dotted with good conversations, music and more. He was a very good tabla player too. His brother and guru Pt Maniram used to sing and he used to play the tabla with him. Jasraj ji had a very good voice too and became a vocalist later. I remember, once in Agra, he played the tabla with us. Besides me, there were Rashid (Ustad Rashid Khan), VG Jog and Vijay Kichlu. He played with all of them.
We have performed on the same occasion several times. In memory of his father and brother, Jasraj ji used to host Pandit Motiram Pandit Maniram Sangeet Samaroh. I performed there many times.
Jasraj ji lived in Kolkata for a long time. He used to interact with me in Bengali. He was also involved in Sangeet Research Academy activities. I was not particularly familiar with his Mewati Gharana; his style of singing followed that of Dr Pandit Askaran Sharma ji. It deviates a little from hardcore classical music. After Bhimsen Joshi's demise, he was one of the senior-most vocalists in Indian classical music. Today, I feel the pain of losing a senior.
His demise means the end of an era: Pt Tanmoy Bose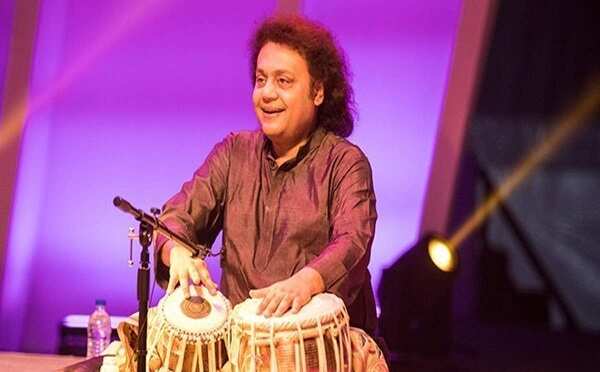 Pandit Jasrajji had a very strong Kolkata connect and he could speak Bengali fluently. Whenever we met at concerts, especially at the Dover Lane musical festival, he would address me as Tanmoy babu and speak to me in Bengali. Though I'd met him several times at concerts around the world, I never had the fortune to perform with him. One of the most interesting facts about Pt Jasraj ji is that he started off as a tabla player and later switched to classical vocals to become who he was. His demise means the end of an era.
Age never deterred him from performing: Pt Tejendra Narayan Majumdar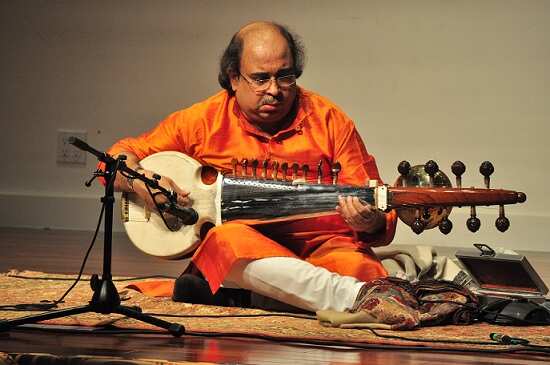 It feels like a personal loss. I have performed with him at several concerts. There have been times when he performed in the first half and I, in the second half or vice versa. I have also been to his home in New Jersey. I used to stay close to his house there. He was such a lively person that he would gel well with everyone. Age never deterred him from performing. I remember a recent concert in which he went up on stage at 4 am and kept performing till 7 am. Such was his zeal. Moreover, very few know that a large part of his childhood was spent in Kolkata. So, he kept coming back to the city. I have heard efforts are being made to fly him back to India. People here would definitely want that.
His words at a time of crisis were like a sermon to me: Pt Subhen Chatterjee
Losing someone like Pt Jasraj is like losing a guardian or a parent. He was indeed a pillar of Indian classical music. I saw him first when I was in my kindergarten days as he used live at 32 Kabir Road, opposite my ancestral house, with his elder brother and guru Pt Maniram ji. He was then more of a tabla player than a vocalist. But by the time I left school, he moved to Mumbai with his brother and some years later, he came back with a bang as a vocalist with a magical voice. I performed with him a number of times, both in India and abroad. One of my most memorable experiences was when I was once scheduled to play with him at the Birla Sabhagar in Kolkata. On that very day, my father was diagnosed with cancer. I was so mentally down on hearing the news that I was unable to head to the stage from the green room just ahead of the show. Jasrajji came to know about it and deferred the concert for 30 minutes just for me. He then said, ' Dekho beta, hum log kalakar hain. Curtain e kbar uth gaya toh hum logon ko sab dukh bhool jana chahiye.' Those words were like a sermon to me. And I still remember, he dedicated the entire concert that evening to the well-being of my father. That was the magic of Jasraj ji.
Source: https://timesofindia.indiatimes.com/city/kolkata/kolkata-musicians-mourn-pandit-jasrajs-demise/articleshow/77596999.cms