KOLKATA: When in 2008 Tanay Mukherjee started performing Durga Puja at London he never thought in his wildest dreams that soon he would be the most sought-after priest in the United Kingdom (UK). This year he is the most popular priest in the UK, performing five Durga pujas back to back.
On Tuesday, as Saptami is being celebrated as per the almanac, he was busy readying the puja at North London Prabhati Sangha. Mukherjee, a techie from Kolkata who is in his forties, had landed in the UK to pursue his masters in computer science two decades ago and soon had a job with HSBC and later with Transport For London. But soon he was pleased to start working as a priest. With his knowledge of religion at Rama Kirshna Mission, he started doubling up as a priest starting with a Satya Narayan Puja.
Last time he had performed only one Durga puja – in the house of Joydeep Paul at Hounslow in West London. "Due to the pandemic, there was a lockdown and so there was a complete ban on community pujas," said Mukherjee who now owns a real estate business. Even last year he had offers to perform puja in other countries and that had to be shelved due to the pandemic.
Mukherjee said that this time he had to start performing Durga puja from October 8. "I am doing five Durga pujas this year. I was invited by 18 puja organizers this year and had to turn down the offer of most of them. I got an offer to do perform puja in Germany too."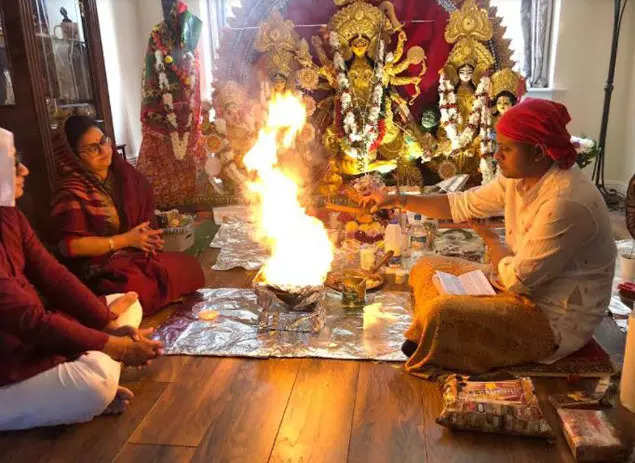 "On October 8, I performed Durga Puja at the house of Pinky Guha in Kent. Next on October 9 and 10, I performed the Durga puja at the house of Dr Sudipto Das at Derbyshire." Mukherjee said that he did all the four days puja on one day at Kent and at Derbyshire, he split it into two days.
Mukherjee said that with the puja being spread over the whole week many in the UK are facing problems to do the puja and for which they want to do it at the weekend at their convenience. Dr Sudipto Das a rheumatologist from Kolkata who works for National Health Service said that he is contented with the puja of Mukherjee and wants him to do the puja next year too. "This was the first year we started Durga Puja at home," Dr Das said.
The next puja is at North London Prathati Sangha – a community puja said Mukherjee where he started his puja from Monday and it will continue till Friday, following the almanac entirely. Then on Saturday, he will do another one-day Durga puja at West Drayton in London for Aadi Shakti community puja organizers.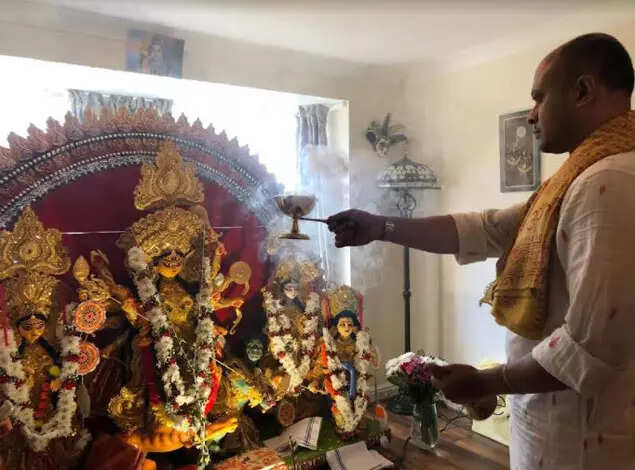 This time too Mukherjee would be doing the Durga Puja at the house of finance professional Joydeep Paul at Hounslow on Saturday and Sunday. Paul and his wife Suedeshna who teaches mathematics in a college are enthusiastic about Durga Puja which they started last year.
Paul said that they are happy with the puja performed by Mukherjee and so they are awaiting Mukherjee to come down to their house during the weekend.
Source: https://timesofindia.indiatimes.com/city/kolkata/kolkatas-techie-most-sought-after-priest-for-durga-puja-in-united-kingdom/articleshow/86966594.cms