As Indian men bagged the bronze medal in field hockey in Tokyo Olympics, hockey veterans from Kolkata — a city that has a robust legacy of championing the sport — cheered for the team. From Olympic gold medallists to first-division and school-level players — everyone is hoping that this win will be a game changer as far as the much-needed revival of the sport is concerned.
'Let this lead to
Golden Age 2.0
'
Former Olympic gold medallist Gurbux Singh was delighted to watch India defeat Germany and secure the bronze medal. "Like every Indian today, I feel so proud. I congratulate the team. Hope this win revives the sport and takes us to the second phase of the Golden Age of Indian hockey," he told us. The veteran was referring to the period between 1928 and 1956 when Indian men's hockey remained unbeaten with six gold medals in a row at the Olympics.
Gurbux, who has a strong Kolkata connection, also used this victory to walk down memory lane and recalled his winning moments. "I have lived in Kolkata for 64 years and my Olympic medals came back to this city. This place has a strong hockey history. With this win, I hope the city gets its mojo back. Also, authorities should come up with more turf courts for our budding players," he said.
Meanwhile, Brandon Claudius, son of Olympian Leslie Claudius, took this opportunity to remember his father. "He won three golds and one silver. While one gold and the silver are with my brothers abroad, we lost the other two gold medals in a robbery. I remember, all the conversations in my family used to revolve around hockey," he said. Talking about his own journey, he said, "I played in the first division for Howrah Union Club between 1986 and 1990. But my brothers were better players. One went to Australia and the other left for Argentina. For me, it all started at St Xavier's as a schoolkid. We mostly played school tournaments and I remember being part of an inter-school championship with St James."
St Xavier's and its focus on sports
After India's historic win, Divyak Doshi, an alumnus of St Xavier's College, Kolkata, and a junior Bengal player, was reminded of his PT teacher, Mr Brown. "He used to encourage all the boys to play all kinds of sports. My association with hockey started with my friend Mark Jennings, one of the legendary Jennings brothers who played in Bengal. We used to play a lot of tournaments during school days. Sadly, that has stopped now. I hope, with this bronze, things will start getting better for the sport here."
Rev Fr Dr Domnic Savio, S J — the current principal of the college — is extremely excited about the Olympic feat. "We are indeed proud of our Indian men and women hockey teams. This college has a rich legacy in the sport and we can never forget Xaverians who went on to become national players. Like Anand Mandapaka, who kept goal for India between 1978 and 1982 . We continue to field our hockey team each year. In recent times, talented players from our college like Jagdish Singh Gill, who has played in the international arena, and SK Faizan, who has played at the national level, have kept the spirit of the sport alive in our institution. We pray that our women's hockey team also brings home the bronze this time."
Yesterday's legacy, today's reality
Once a popular sport in the city, hockey took a backseat as the spotlight shifted to cricket and football. India's first hockey club was formed in Kolkata in 1855 and the oldest hockey tournament, Beighton Cup, also started in the city. "There was a time when a hockey match used to draw as many spectators as you see at a football match today. We had highly literate spectators who understood the sport. The hockey culture started plummeting in the late 80s. Cricket and football got all the attention and hockey started fading out due to lack of care. Not just the authorities, parents too were responsible for this. They wished for their wards to become like Tendulkar and Ganguly. Just like you make your children have all kinds of food, you must also expose them to all forms of sports and let them choose what they like," said Pratul Singh Rawat, a former hockey player who started his journey from St Xavier's School, Kolkata.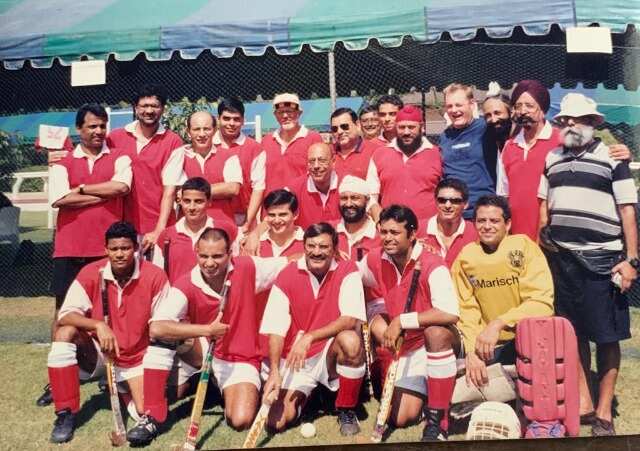 'Hockey matches in Calcutta were like a carnival'
Hockey used to be an important part of Kolkata's Anglo-Indian community. In the 1936 Olympics squad, out of seven players from Kolkata, five were from the Anglo-Indian community. "The best Bow Barracks XI team could easily be the Bengal XI team at one point of time. In fact, the Anglo-Indian community used to be synonymous with Indian hockey. Spectators used to hero worship players like Leslie Claudius," recalled Barry O'Brien, quizmaster and the president-in-chief of The All India Anglo Indian Association, who also played hockey in his school days. "Calcutta used to be the capital of hockey. The matches used to be housefull, with bands playing before the games started. It used to be carnivalesque. There was a time when the majority of the players in the tea company clubs and all the travel houses used to be Anglo-Indian men. It used to be a big sport in St James, St Xavier's and St Thomas School. Then the community started leaving the city and many started living in Australia. It was our loss and their gain. Many of them, in fact, started coaching in Australia and the country reaped benefits. With the community gone, a part of our sporting legacy also went with them. The current youngsters from the community are more into academics and they want to shape their career very differently from the previous generation. "
Source: https://timesofindia.indiatimes.com/city/kolkata/kolkata-hockey-veterans-rejoice-relive-citys-old-passion-for-the-sport/articleshow/85090249.cms