The Telegraph takes a sneak peek into their collection
---
---
More than two decades after his mother Sushma Maloo started Nornament, and a designer boutique showroom in Mumbai later, Pradhyuman Maloo has now got the jewellery brand to the city of his birth, Calcutta, at Platinum Mall, Elgin Road. This chat, however, might have started with jewellery, but soon veered towards food. The entrepreneur, jeweller and creative director of Nornament is a foodie and loves cooking. The glee in his voice was unmissable as chaat, jhaal muri, nolen gur cheese cake rolled off his tongue, leaving us salivating.
You have a deep-rooted connection with Calcutta. So, it was a logical decision to come here….
I have got a lot of family in Calcutta from my paternal side. My fondest memories of my childhood are from Calcutta… we were a group of 20-30 cousins and because of the relations we have in Calcutta, when we started in Mumbai also, a lot of people recommended us and believed in us and a lot of people from the city supported us. So, we were always connected to Calcutta and it has always been the place we call home. I like to stay in the old house in Alipore because that reminds me of my childhood. We already have a lot of pre-existing clients and they understand us. So, it was a no-brainer decision that if we have to consider anything, it has to be Calcutta. The city is also rich in culture and heritage and it kind of resonates with our brand. I have always wanted to stay over here….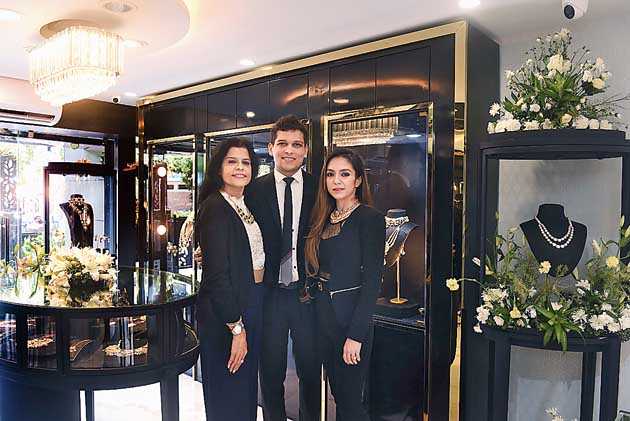 What was the idea behind the location?
The main idea was to be located centrally where people will come and notice you, an upscale area. We did see a couple of locations earlier too. The first time we saw the Elgin Road property (Platinum Mall), we really liked it. It is a 600-carpet store, which works with our model as it is completely personalised. We also have a beautiful place outside as well.
What have you started with?
We are creating a collection which is unseen in India, the cameo collection. Artists used to draw on agate stones with wax. The kings used to get their pictures done on cameo pieces… considering Calcutta has the richest history in India, we wanted to start with something which is culturally so rich.
Given the situation, have you consciously taken the risk of going ahead with the launch?
Yes, if you are to ask me, it is a risk if you see it on a short-term basis, but in the long term, we've always wanted to do this. It is good to be cautious, but jewellery is an emotion, so at these times, people want to invest in pieces because they want to treasure moments and give people pieces to appreciate their importance in their lives. Jewellery becomes a good medium.
Tell us about your Calcutta food favourites….
Where do you want me to start from? (Laughs) For bhel, I like the Lansdowne one, for sandwiches, there is a beautiful place at Burrabazar where you get chhena sandwiches. Ralli Singh's pineapple-milk syrup is brilliant. The Sharma tea is unbelievable. There is chaat all over Calcutta which is brilliant. I personally love my breakfast at Flurys. Being at the corner of the window feels like you can see through time. I go there for a simple beans and toast, black coffee and the window seat. My mid-day meal is certainly the chaat over here. If anyone is travelling from Calcutta to Bombay, they carry a bag of food for me. In fact, I call for paan from Calcutta. The gundi and kesar paans are unbelievable.
I love eating at Gangaur. Abar Khabo and jhaal muri are my favourites. I like both pani puri and phuchka and have been having it every day! The first time I had nolen gur cheese cake from Balaram Mullick & Radharaman Mullick, I had half a kg! In fact, we have started making mishti doi in Bombay because we liked it so much. We carry nolen gur from here to make mishti doi.
I really like using Calcutta breads. There is a certain sweetness to them and is an ingredient by itself. You can cut them thick and make a nice crostini or garlic bread.
How much has life changed post Indian Matchmaking (the Netflix show which featured Pradhyuman and has now bagged an Emmy nomination)?
I remember when I came down to Calcutta during the first wave, some people did stop me and ask whether I was on the show. If I go to restaurants, there is a murmur and you know what that is about. Life has changed in a good way. I get the recognition and it is a lot of responsibility as well. They ask you for advice.
Pictures: Pabitra Das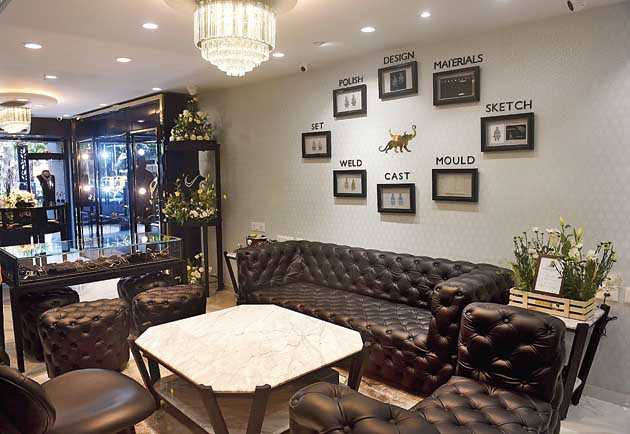 What: Nornament jewellery boutique showroom
Where: Platinum Mall, Elgin Road
Timings: 11am-7pm
For details: Call 7439796348
Source: https://www.telegraphindia.com/culture/style/nornament-comes-to-calcutta/cid/1825011