t2 got an exclusive walkthrough the cricketer's resto-bar -One8 Commune Kolkata, which is all to be launched this weekend
---
---
When t2 pushed open the tall door at One8 Commune Kolkata on Monday afternoon, last-minute preparations were on in full swing, before the gala launch coming up this weekend. Much like its owner and star cricketer Virat Kohli's training ahead of a crucial match. While our hearts skipped a beat seeing the skipper's signature light up one corner of the 4,500sq ft resto-bar, a warm glow added to the vintage-y, romantic feel. The thought of a meal with Virat was a major distraction which didn't to seem to dissipate even in the hullabaloo of an assignment. And, with him not being around, we made do by savouring his menu favourites later with much gusto.
Designed by Sumessh Menon, One8 Commune Kolkata, the second outlet in the country after Delhi's Aerocity, can seat 100 and is a mix of comfort and cool. "The interiors are infused with the spirit of the city's nostalgic heritage. It is dedicated as an ode to the city. A vibrant blue wall designed as a book wall hints at the city's rich treasure trove of literature. Even the elements introduced across the whole space including arched windows that serve as bottle displays behind the bar, wall arches, vaults, touches of cultural vibrance are all inspired by the city's architectural heritage and endeavour to bring out a warm, nostalgic and spirited (no pun intended) ambience," said Sumessh (inset).
The colour palette includes shades of rust, olive green and blue in varying tones and textures. Seating styles include capsule-style pods and a raised VIP seating space which has a backdrop of an LED lit signature of Virat Kohli. Set against a uniquely patterned semi-circular black, white and Bidasar marble flooring, all these elements are canopied over by a dramatic vaulted ceiling with metal truss and green foliage decor.
More about it
What: One8 Commune Kolkata, a resto-bar
Where: 13, Ho Chi Minh Sarani
For reservations: 8335071818, 8335051818
Meal for two: Rs 1,600-plus (without alcohol); Rs 2,400-plus (with alcohol)
Virat Kohli took some questions from t2 ahead of the launch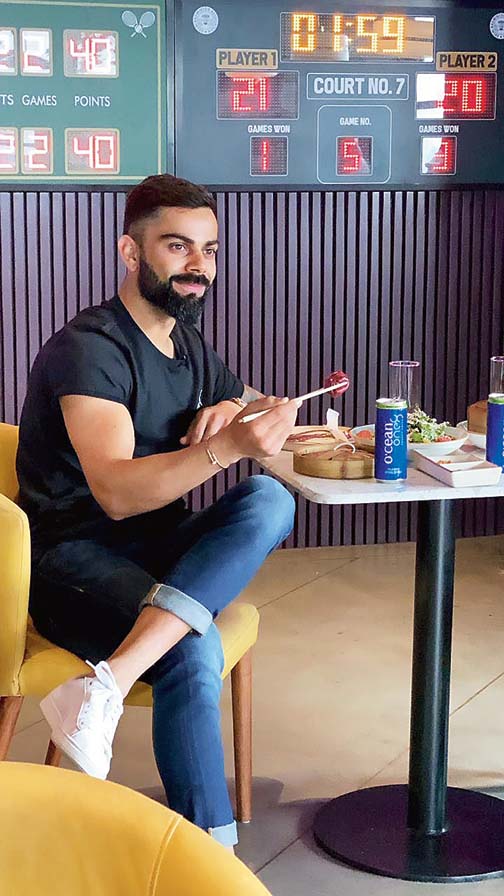 Virat, many congratulations for One8 Commune Kolkata! The place looks fabulous. What are your first thoughts on coming with One8 Commune to the City of Joy?
My connection with Calcutta has always been very joyous and will always be very integral to me since my under-19 days till today. Also, we all know how big Calcutta is with the food culture, and that people really know how to do justice to the food here. So we thought we could really be a fantastic addition to the mix, with a bit of our distinctive twist here. The unique combination of Calcutta's history and modern discoveries, is what makes this friendly metropolis a unique experience and this is exactly what we want to bring on the table. These are essentially the core reasons that I have chosen Calcutta to launch One8 Commune's second outlet, post Delhi.
One8 Commune Kolkata has an old-world charm to it. What kind of inputs did you have on the look of the place?
So whenever we do a project, there is a considerable amount of market research that goes into it. I love the architecture of Calcutta, it is very colonial. So we have tried to give it a contemporary vibe. The idea of this space is to recreate an overall essence of Calcutta.
We have heard that there is a special section dedicated to the kind of food you love. Tell us more about it…
Across my travels, I have picked a few dishes that I absolutely love and I thought what better way to share my experience with the fans than bring these favourites on One8 Commune's menu. (I) would love to highlight the Thyme Sauteed Mushroom Sliders in Anticucho Sauce and another healthy favourite is the Superfood Salad, which includes roasted seasonal vegetables, watermelon, mesclun greens, pumpkin seeds, amaranth pops with a drizzle of vinaigrette.
What has your experience with One8 Commune been like in these two years, considering that the pandemic hit us barely a few months after your Delhi outlet opened?
So obviously the last two years have been very difficult on many fronts, especially from the hospitality standpoint. The operations behind the hospitality sector should also be considered as the frontline warriors as they didn't flinch for even a second while doing the chores and kept on with it with sheer integrity. I truly have huge respect for them and the fact that they were making it happen, every single day, keeping all the health measures in check.
As a sportsman you know what uncertainty really is. This was your first brush with the uncontrollable as an entrepreneur. What did this phase teach you?
Every phase comes with big learnings for all of us and I believe that we should always learn from whatever comes our way and keep moving forward… would really advocate this to the young and upcoming entrepreneurs. Take every mistake in your stride and just keep going for what you aspire, irrespective of the consequences. One should be able to battle the uncertainties and always see a ray of light at the end of the tunnel.
While Chhole Bhature is your top favourite, what else makes your mouth water?
I love our Mushroom Googly dim sums, which is basically an assortment of mushrooms and truffle oil. It is one of the finest things you could try at One8 Commune.
What is your message for all your fans who would read this chat?
My message would be that, please do come and try our food at One8 Commune Kolkata but at the same time, be 'socially responsible' while you step out. As we are all aware that this pandemic is not over yet and that there is still a long way to go for us to be fully in control of this situation. It is important that we look out for our people and dine with full caution.
New in Town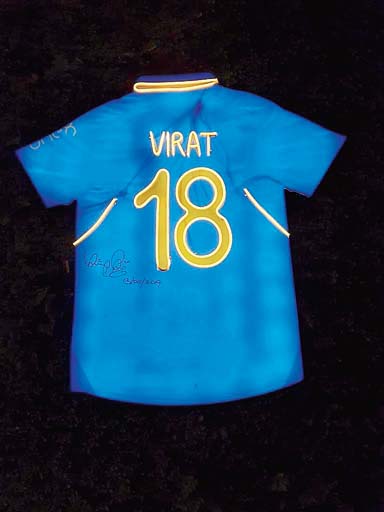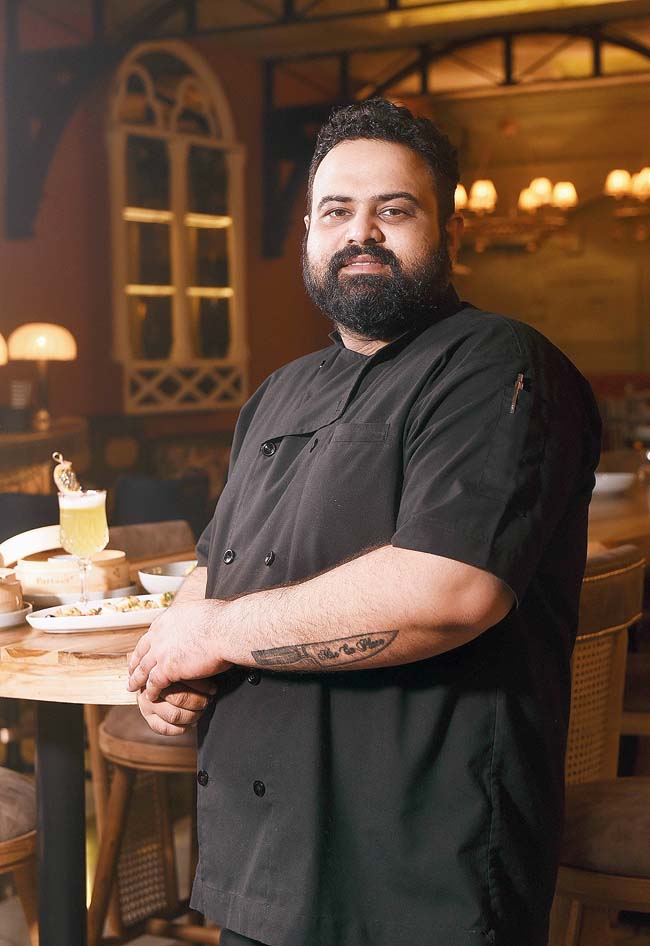 Chef Abhinav Sharma, corporate chef de cuisine at One8 Commune said he was excited to have joined One8 Commune. "My focus will be to play with local ingredients and provide a gourmet experience to this city. Along with our in-house signatures, the patrons can look forward to seasonal menus from time to time," he added.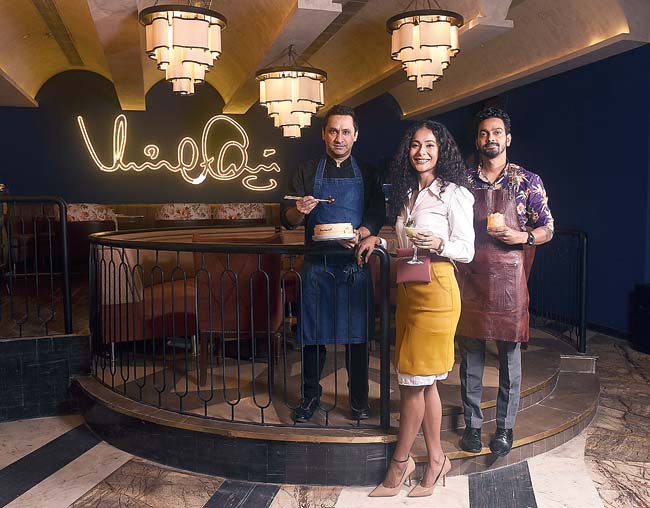 (L-R) Chef Pawan Bisht, corporate chef and R&D executive of One8 Commune, Ushoshi Sengupta, communications director, One8 Commune, and Neeraj Sharma, brand mixologist, One8 Commune, chose this signature backdrop for a memorable picture, to mark a new beginning. "For Virat to choose Calcutta for the second outlet over any other place in India, that has a personal attachment. I have told my team that this is going to be the most challenging outlet for them. If they can sustain here then they can be well assured that we will make a mark anywhere in the country. That's the sentiment that Virat also resonates with. The fact that Calcutta is a place for both food and cricket lovers," smiled Ushoshi.
Pawan said he was in love with Calcutta. "I was telling Ushoshi that I will shift here. Really nice place, people love to enjoy life," he laughed. For him, the "funda" at the resto-bar was the "experience". "The place should be known for the food. When the guest leaves, he should take the entire experience with him… from the kitchen, the bar and the ambience," he smiled.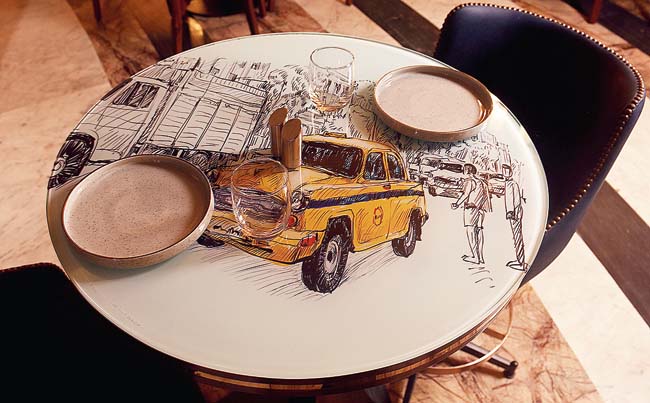 We loved the yellow taxi tables! "Yellow taxi relates to the iconic mode of transport for the people of Calcutta. So the design team decided to incorporate this as part of our intent for the space," said Sumessh.
The bar doffed its hat to the Howrah Bridge. "We wanted the bar to be the highlight of the space. It is around 35-feet long, curved bar, one of its kind, which has details inspired from one of the most iconic bridges of India, the Howrah Bridge. The use of intricate metal truss details reflects the architecture of the Howrah Bridge," said Sumessh.
Menu Highlights
"Virat loves food and is health-conscious too. Half of the menu is inspired from his travels. He always asks us to go for local and fresh produce. That's his motto," said Pawan, who has been with the brand since its inception.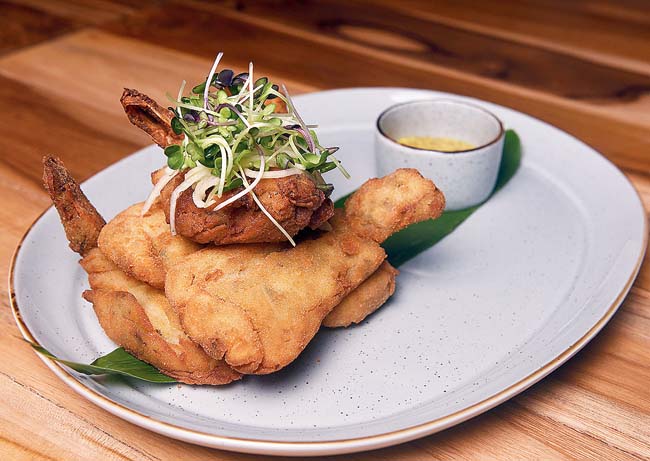 Kolkata Prawn Cutlet garnished with apple slaw and kasundi is a Calcutta special .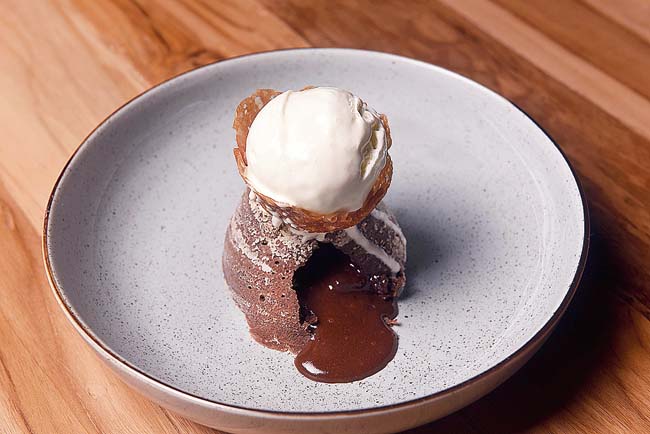 The classic Chocolate Fondant is one of the highest-selling desserts at the Aerocity One8 Commune.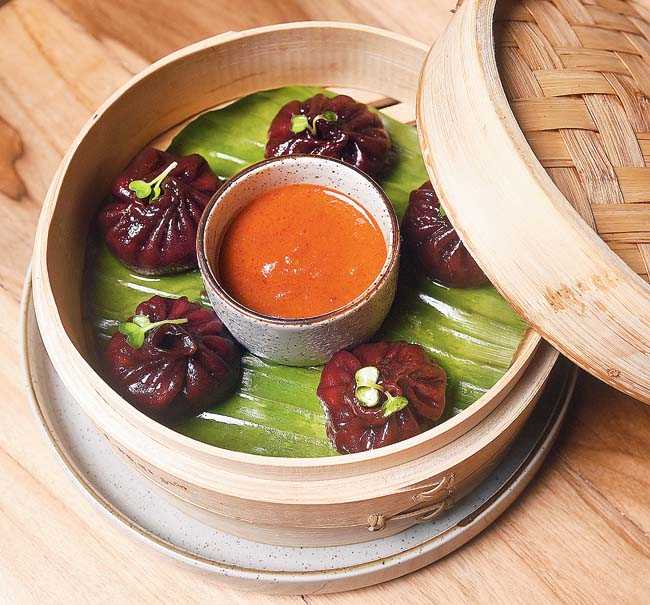 Mushroom Googly with truffle oil and mushroom is Virat's favourite and he simply loves these dim sums. "He travels a lot and he knows his food and ingredients. When I met him initially, I had asked him what kind of food he likes. He had mentioned truffle oil. So, I came up with this dish and it became an instant hit," said Pawan. The dim sum gets it hue from beetroot.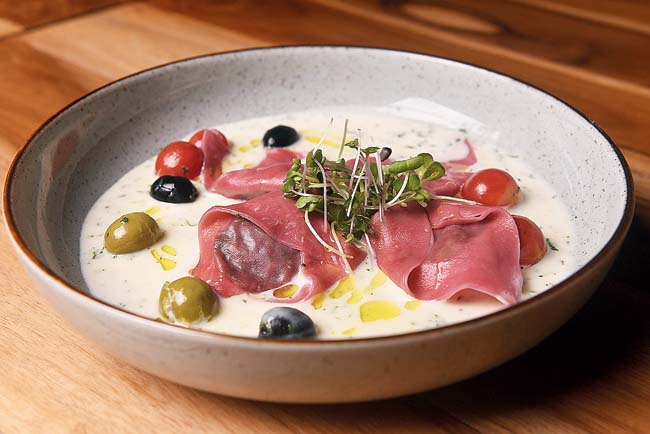 Tortellini Alfredo with Parmesan cream, burnt butter, roasted nuts, truffle oil is a dish that is being launched at One8 Commune Kolkata for the first time.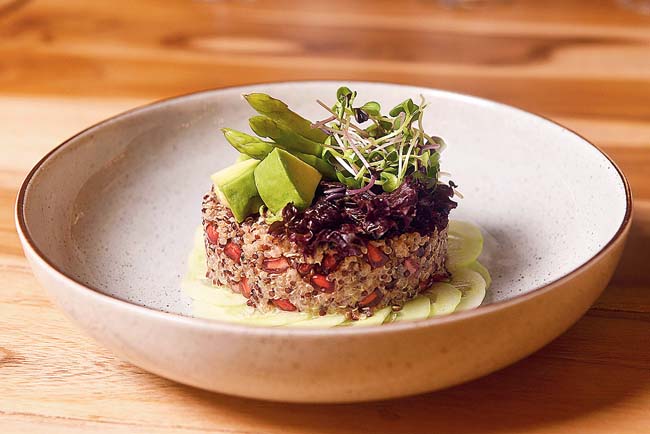 The Red and White Quinoa Salad is millet based and again one of Virat's favourites.
The Tipple Toppers
"Virat likes sugar-free mocktails. If we get to know that Virat is coming, we fix a new menu for him. I designed one drink with aloe vera juice, pineapple and some more flavours," smiled Neeraj, who has been with One8 Commune, Aerocity, since December 21, 2020 and came down to Calcutta to get things going. "We did all the trials at One8, Aerocity as well and we are working on this menu for the last six months," he said.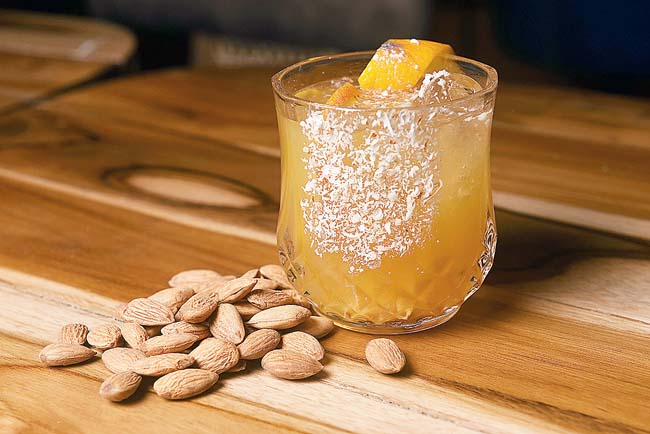 Bourbon Orgeat:
"This is my personal favourite. I am a bourbon whisky lover. Orgeat comes from the almond family. I gave this drink a twist with orange, bourbon whisky and orgeat. I glazed the glass first with orange wedge and then I put the grated almonds on the side as part of the presentation. There are almond flakes in the drink. While drinking you will feel the flavour of the whisky with almond," explained Neeraj.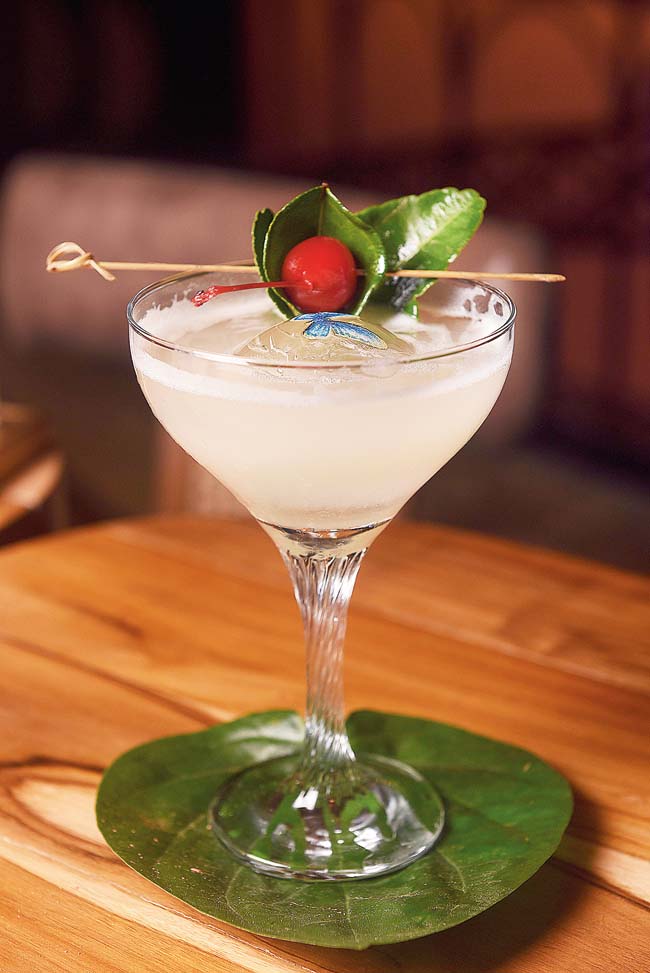 The Fairy Lady:
"Earlier I designed the drink in blue, but this looks better and goes well with girlie dresses," said Neeraj. It has Kaffir lime leaves and maraschino cherries. The drink has half a portion of vodka and half a portion of gin. The lychee is the twist with lemon.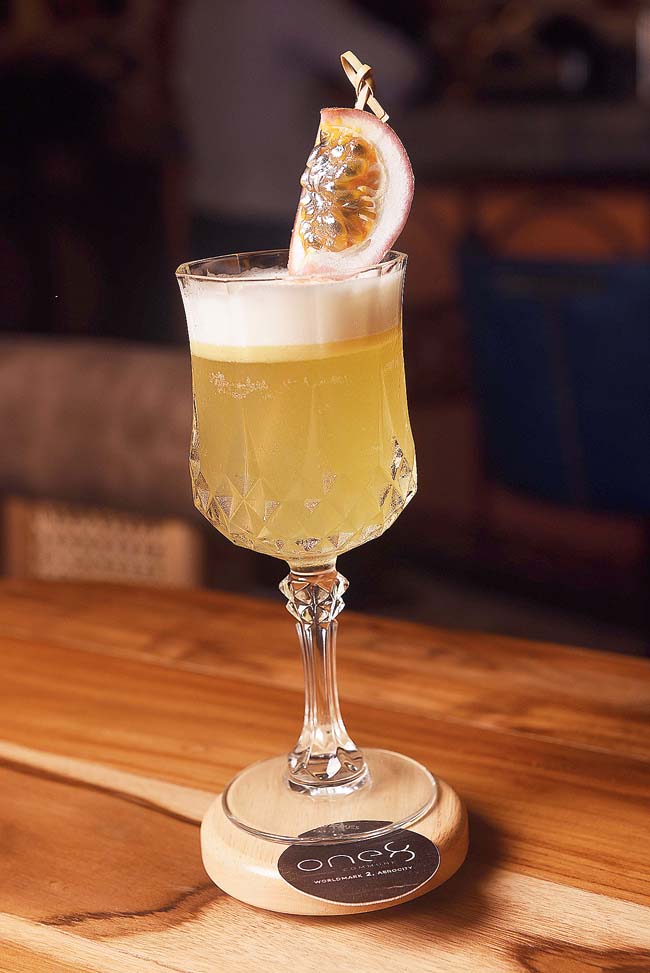 The Yellow Tail:
"Tequila is trending by the day. I gave my tequila a twist with passion fruit and lemon. The presentation came with a portion of passion fruit with a silver pearl spray. The flavour is a bit strong because tequila comes from the agave family. And passion fruit has a citrus flavour.
So, it's citrusy, bitter and sweet," said Neeraj.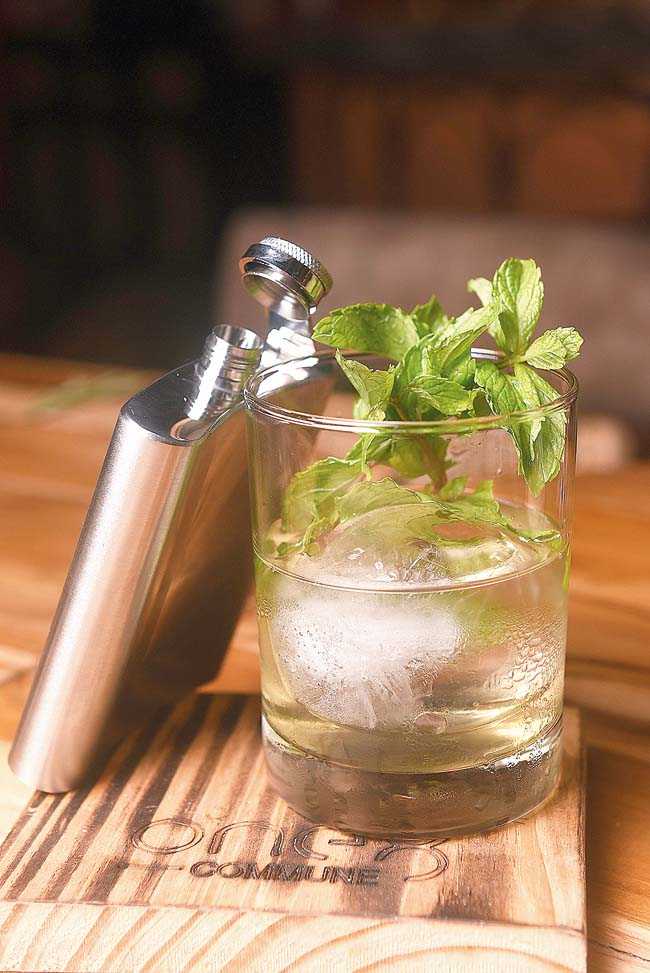 Commune no.7:
"This is one of our signature cocktails from our signature cocktail segment. We are using Jack Daniel's No. 7 in it and this drink is for the community people who love a bit of props along with the drink. They can drink from the flask or they can pour it into a glass. It is very refreshing with the flavour of peach and honey with some lemon. This is a Calcutta special," said Neeraj.
One8 Commune Kolkata pictures: Pabitra Das; Ushoshi's outfit: Esha Sethi Thirani; Jewellery: Divinus Creations 
Source: https://www.telegraphindia.com/culture/virat-kohlis-calcutta-connect/cid/1824334