Celsius rise in north India robs Calcutta of chill
---
---
The day temperature has been pushing 30 degrees for the past couple days.
A week into December, mothballs are still embracing woollens inside cupboards. The night lacks nip but the day is when Calcuttans are feeling the heat. The December sun, usually mellow and pleasant, has forced many to switch on the fan.
In Calcutta, the Celsius has been rising consistently over the past few days (see chart). At 18.6 degrees, the minimum temperature on Monday was three notches above normal.
Despite the IMD's forecast of a harsher than usual winter this year, northern parts of India have witnessed a rise in temperature for the past few days. "That is behind the warm spell in Calcutta and the rest of south Bengal," a Met official said, ruling out a significant slide in the Celsius over the next few days.
"The temperature in Calcutta is expected to go down marginally from Thursday. But it is unlikely to dip below 15 degrees over the next seven-eight days," said a Met official. The maximum temperature is likely to be in the range of 29-30 degrees over the next three days.
The minimum temperature in Srinagar was 4.6 degrees on Sunday, five notches above normal. In Delhi, the minimum temperature was 11.4 degrees, a couple of notches above normal.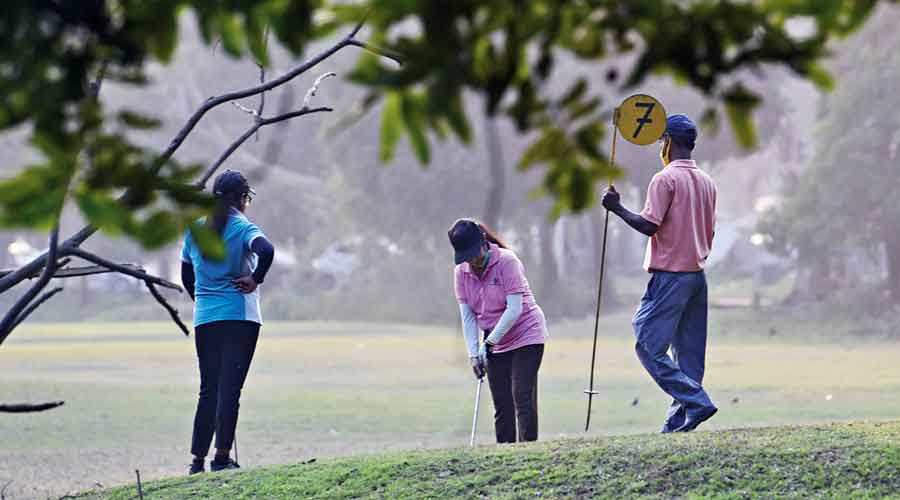 "The chill in Calcutta is brought by northwesterly winds which come from Kashmir via places like Delhi and Patna. The intensity of the winds keeps decreasing as they travel. A -2°C temperature in Srinagar can result in a 7°C reading in Delhi and a 12°C in Calcutta. The temperature has been on the higher side across northern parts of India. Gangetic Bengal is also witnessing a corresponding rise in temperature," said G.K. Das, director, India Meteorological Department, Calcutta.
There is no immediate Western Disturbance — that triggers snowfall in Kashmir — on the Met radar."The effect of snowfall in Kashmir is usually felt in Calcutta within 48-72 hours. In the absence of fresh snowfall, chill is unlikely to set in," said Das.
The reason for unusually hot days is the clear sky for most of the day, allowing the sun to beat down hard and triggering a rise in day temperature, said a weather scientist.
"A cyclonic circulation over Jharkhand is leading to some fog early in the morning but as the day progresses, the sky becomes clear," a Met official said of the past couple of days in Calcutta.
The moisture injected into the atmosphere by the circulation is minimal but enough to ward off weak trickles of northwesterly winds, he said.
Source: https://www.telegraphindia.com/west-bengal/calcutta/kolkata-weather-update-winter-lost-in-december-heat-poor-air-piles-pain/cid/1799842