The lush green of Maidan, along with the colonial architecture and hustle and bustle of the City of Joy, are all part of the experience if you take an idyllic tram ride from Esplanade to Kidderpore. The route – number 36 – that used to offer arguably the most picturesque slice of Kolkata, had to be closed down temporarily after cyclone Amphan messed up the overhead wiring in May this year. Now, after restoration of four of the six tram routes that the cyclone had impaired, the buzz is that route 36 may become operational soon. "There is also a plan to introduce a heritage tram on this route. This might add on to its popularity," a West Bengal Transport Corporation (WBTC) official said.
The fourth route – Shyambazar to Howrah – resumed in September after the Tollygunge-Ballygunge, Rajabazar-Howrah Bridge and Gariahat-Esplanade routes were reopened.
Tram services have been closed since the COVID-19 lockdown started in March. The engineering section of WBTC has been working to restore the overhead wires destroyed by Amphan. Even tram tracks were damaged by fallen trees during the cyclone.
However, a group of tram commuters, who love the pollution-free transport system, is sceptical about the idea of running a heritage tram on route 36. "We fear that the new heritage tram route might replace the Esplanade-Kidderpore route altogether. We might lose a popular route completely. A lot of such routes, including Behala and Joka, have already gone into oblivion. But we want to retain tram depots and routes. Besides being our heritage, trams are still an economical, peaceful and sustainable mode of commute for Kolkatans. They should be an essential mode of transport; not merely a symbol of the city's heritage," said Debasish Bhattacharyya, president, Calcutta Tram Users Association.
It's worth mentioning here that trams have been used time and again in movies to symbolise Kolkata and its rich heritage. From Kahaani to Bullett Raja and from Mahanagar to Praktan — umpteen films have featured iconic scenes involving trams, especially ones plying over the picturesque route 36.
FILMS SHOT ON OR NEAR TRAMS
Piku
Amitabh Bachchan's character, Bhaskor, goes cycling around the city in a bid to revive his old memories. As he pearls around old Calcutta landmarks, one cannot miss the tram cars that come into focus near the Nonapukur tram depot and central Kolkata, which is also where route 36 originates.
Bullett Raja
Saif Ali Khan and Sonakshi Sinha shot for this film in parts of Kolkata and for the song, Samne Hai Savera, they tried out various modes of Kolkata transport, including the tram. The tram sequence was shot on a Sunday morning in the historical Dalhousie area of the city.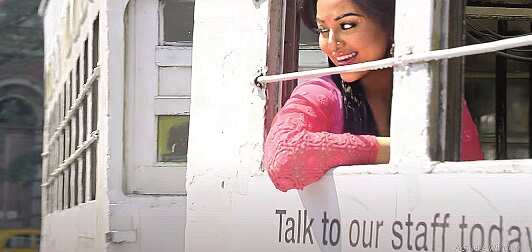 West Bengal Tourism TVC
Shah Rukh Khan was the face of a campaign that went on to become a roaring success. Featuring everything that Bengal is known and loved for, the last sequence sees the iconic tram car on route 36 chugging in before SRK makes a spectacular entry inside the car, romancing his 'Bideshini'.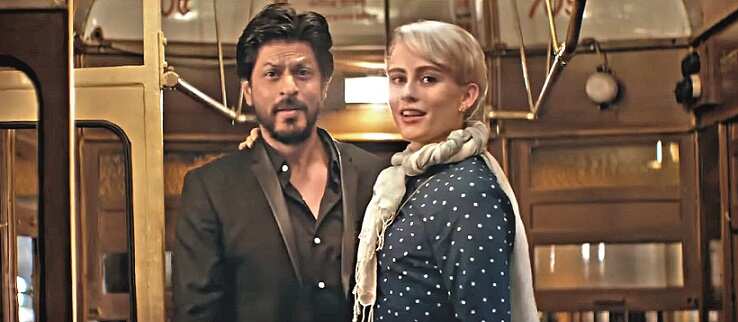 Parineeta
Clad in a school uniform, Subhashree walks along the tracks in Parineeta with her crush Ritwick Chakraborty. The two do not get into the tram car, but the tracks of route 36 turn into a metaphor for their relationship. A dreamy sequence that is often repeated in the film.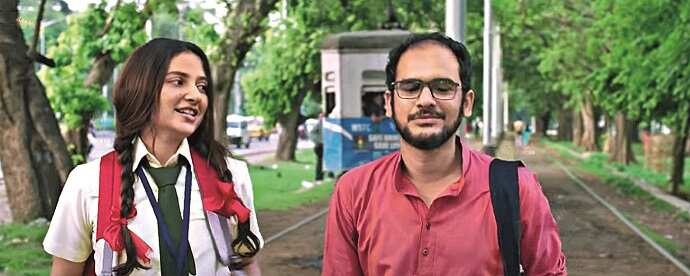 Praktan
Rituparna Sengupta cracks open peanut shells and Prasenjit looks at her starry-eyed in the first class car of a tram that meanders through the lush stretches of route 36. Director duo, Shiboprosad Mukherjee and Nandita Roy, showcase Kolkata vividly through Maidan, Victoria Memorial and, of course, the tram.

CELEBS DISCUSS THE TRAM-CINEMA CONNECT
Trams were an integral part of my childhood: Rituparna Sengupta79039698
I used to live near the Kalighat tram depot and trams were an integral part of my childhood. Obviously, the tram ride in Praktan was an iconic scene. We took route 36. We also shot in a tram for Limelight. My character, a struggling actress, takes a tram to go and meet directors. During one such ride, she dreams of becoming a big star one day.
A scene about Kolkata is incomplete without a tram: Raj Chakraborty79039704
Tram route 36 has everything a filmmaker wants. Whichever way I move my camera, I get a nice shot. The lush greenery of the area also brings in all the elements of romance. The route is very romantic in my opinion. With its heritage and the attached nostalgia, I feel a scene about Kolkata is incomplete without a tram.
A tram ride slows down the pace of everything: Sonakshi Sinha79039715
This is the first time I sat in an actual local tram. This tram was like 100 years, it's like a time machine. It has got a very nice and romantic feel to it. It slows down the pace of everything. It makes you want to stop and look. It was a very dreamy tram. Unfortunately, I have no one to share it with right now.
(As told in an earlier interview about shooting in Kolkata)
Source: https://timesofindia.indiatimes.com/city/kolkata/cinematic-tram-route-36-set-for-a-revival/articleshow/79039568.cms