KOLKATA: The first major political agitation in the city since the start of the pandemic choked a large part of central Kolkata and Howrah on Thursday as cops and BJP workers battled each other for nearly four hours on a weekday, turning several areas into war zones.
The entire Hastings belt in central Kolkata, Howrah Bridge, Howrah Maidan and Santragachhi bore the brunt as cops used innovations — like spraying coloured water — to push back the marchers, besides resorting to time-tested tactics like lathi-charge and bursting tear-gas shells. The marchers gave it back in equal measure, hurling bricks and bombs at cops in Howrah's Mallick Fatak. Cops also recovered a 9-mm revolver from a 42-year-old BJP supporter with a licence issued by the Jammu and Kashmir Police (valid in Rajouri district).
Cops detained 113 BJP supporters, including Balwinder Singh, the man with the revolver. Singh told interrogators that he "also stayed in Bhatpara for business", prompting Trinamool leaders to accuse the BJP of bringing in outsiders to "destroy peace in the state". "How can political workers carry revolvers to a 'peaceful' rally?" state urban development minister Firhad Hakim asked. The Trinamool will hold a candle-light march on Friday to protest against the BJP's "politics of violence".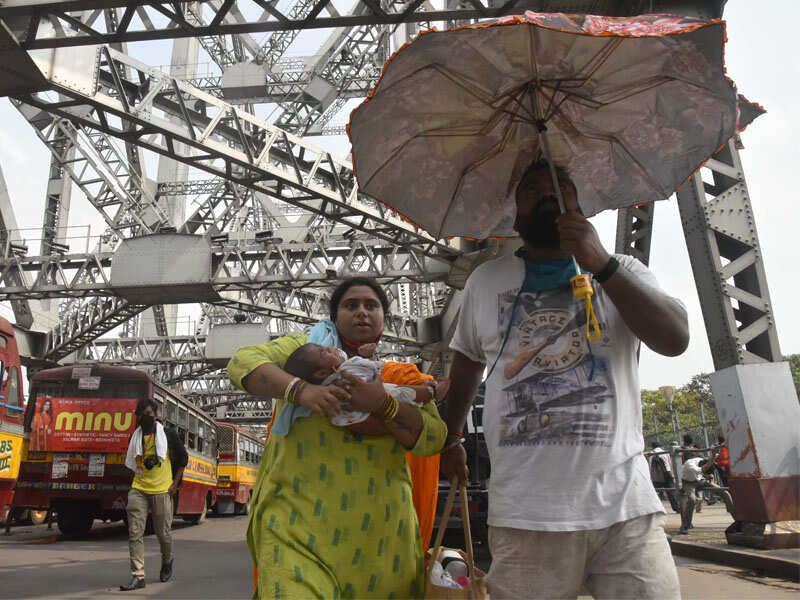 Ranajit Daloi and his wife with their 2-month-old baby walk from Eden Gardens to Salkia.
BJP national president J P Nadda, however, accused cops of beating up "peaceful" protesters and even "hurling country-made bombs". State BJP president Dilip Ghosh said CM Mamata Banerjee had "conceded defeat before the battle". "She fled from Nabanna because she is afraid of facing the people," he added.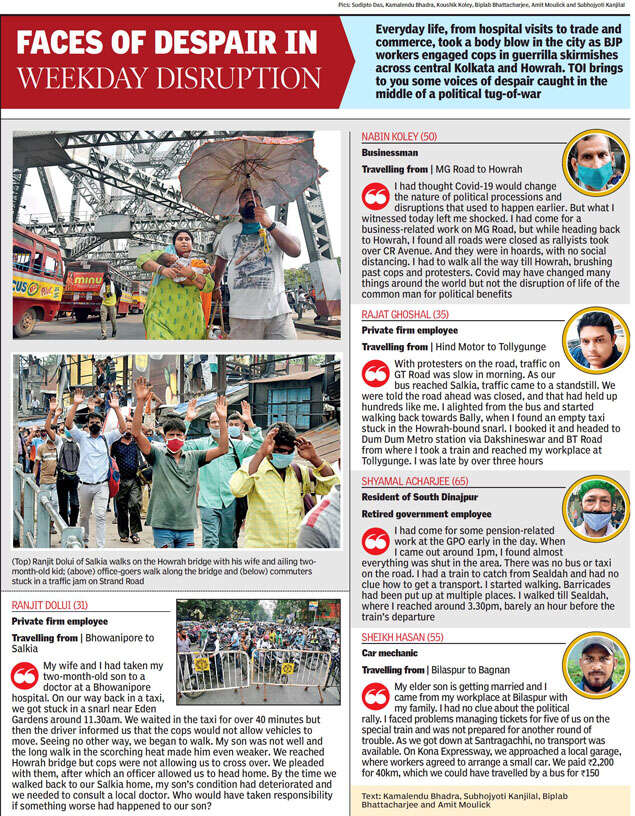 The Bengal CM, however, made it a point to visit Nabanna (closed for sanitisation) on Thursday afternoon. She returned from Jhargram, spent a few minutes at the state secretariat and then went to Bhawani Bhavan. Chief secretary Alapan Bandyopadhyay and additional DGP (law and order) Gyanwant Singh worked out of Nabanna's control room; state DGP Virendra and Kolkata Police commissioner Anuj Sharma monitored the situation from Bhawani Bhavan.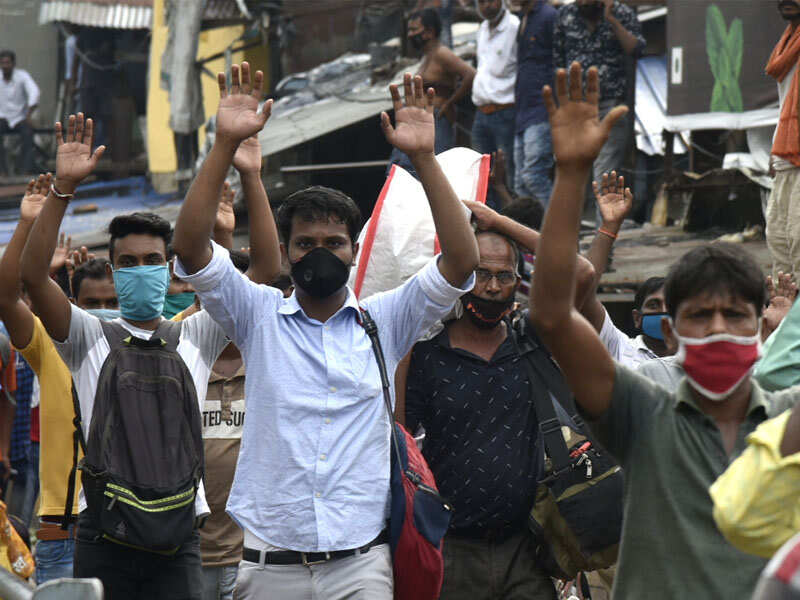 Office-goers walk along the Howrah Bridge in Kolkata.
Bandyopadhyay lauded cops for showing restraint despite provocation. Several cops were injured — 27 in Kolkata, 24 in Howrah — and three had to be admitted to hospital. Bengal allowed "peaceful and democratic rallies… not against the rule of law", Bandyopadhyay said, emphasising that permission for the programme (25,000 youths would gather at four different points) only on Wednesday.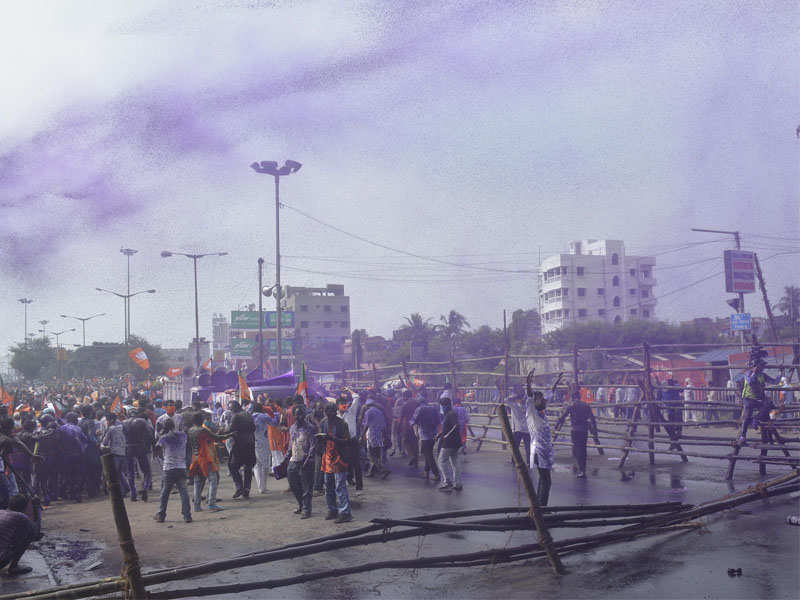 Cops used colour dye in water canons so that protesters could be identified later for suitable action.
Four spots in Kolkata & Howrah turn flashpoints
BJP was informed within two hours that it would not be possible to allow the programme because of three factors: the Supreme Court's Shaheen Bagh order (protesters could not be allowed to indefinitely block public roads and places), Section 144 (prohibiting assembly of more than four persons) around Nabanna and the centre's disaster management and lockdown provisions.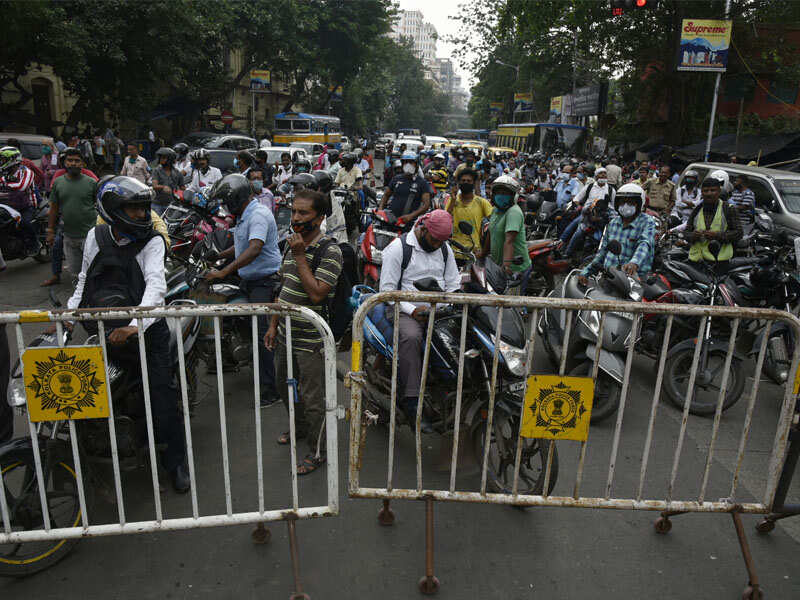 Commuters had a tough time in getting through the police barricades at several places.
BJP supporters, however, gathered at several places in Kolkata and the suburbs, including Kalighat (close to the CM's home), central Kolkata, Howrah, Narendrapur (South 24 Parganas) and Dankuni (Hooghly), right from the morning.
Four rallies in Howrah and Kolkata tried to head towards Nabanna, using Second Hooghly Bridge and Howrah Bridge. The Hastings rally was led by central leaders Arvind Menon and Kailash Vijayvargiya and state leaders Mukul Roy, Arjun Singh, Locket Chatterjee and Sabyasachi Datta. Police started cane-charging this rally at 12.45pm and burst six rounds of tear-gas shells. Local BJP leader Rakesh Singh took a blow on the head and was taken to hospital; Menon too had to get treatment for leg injuries.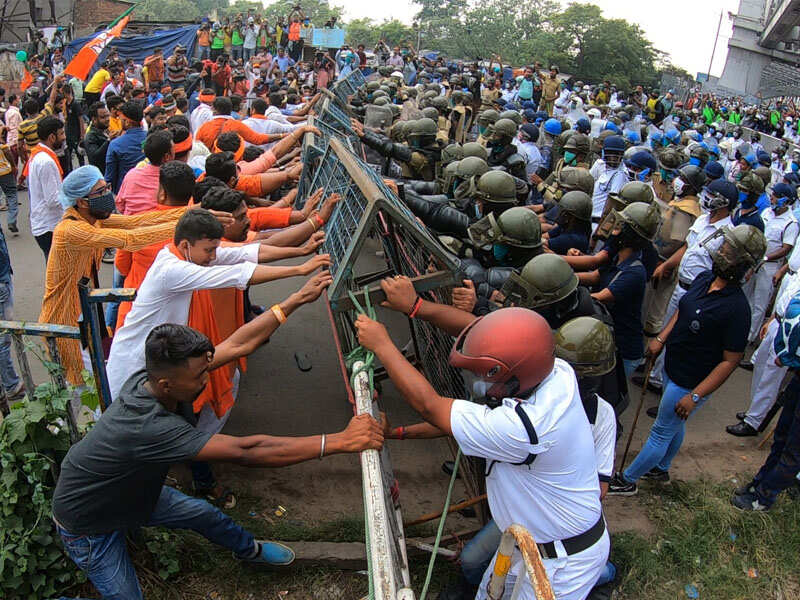 BJP workers try to break through a police barricade.
Howrah Bridge was the second flashpoint. This rally, led by Bengal unit chief Ghosh, started from the state headquarters off Central Avenue and reached the first barricade on the approach to the bridge at 1.35 p.m. BJP workers took seven minutes to break this barricade, prompting a cop pushback in which party North Kolkata president Sibaji Singha Ray was injured.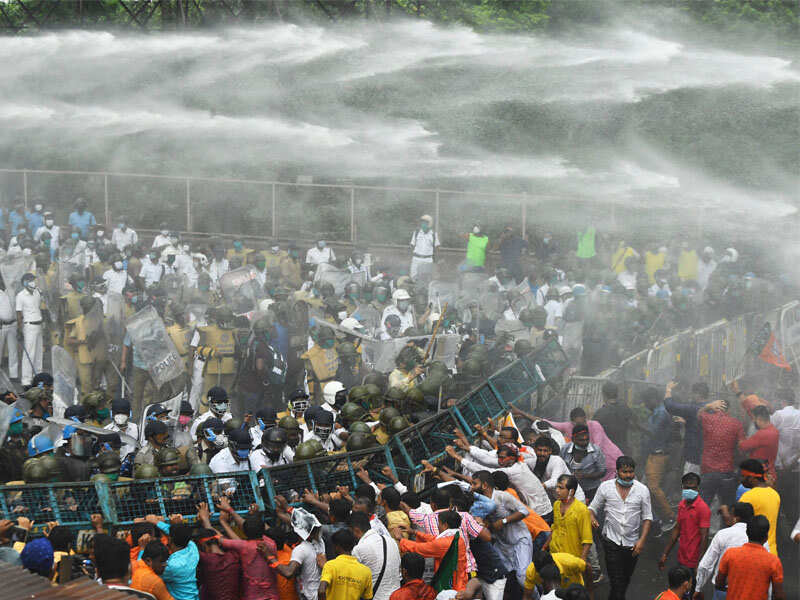 Police use water canon to disperse protesters in Kolkata.
Another rally converged at Howrah Maidan; the first sign of violence here came around 1pm, when BJP supporters tried to break a police barricade at Mallik Fatak and were met with tear gas and smoke grenades. It was here that bombs were hurled at cops and the revolver was recovered from a rallyist. "Singh threatened us with his hand in his trousers' hip pocket, prompting us to nab him and check what he had," a police officer said, adding that he had been slapped with Arms Act cases.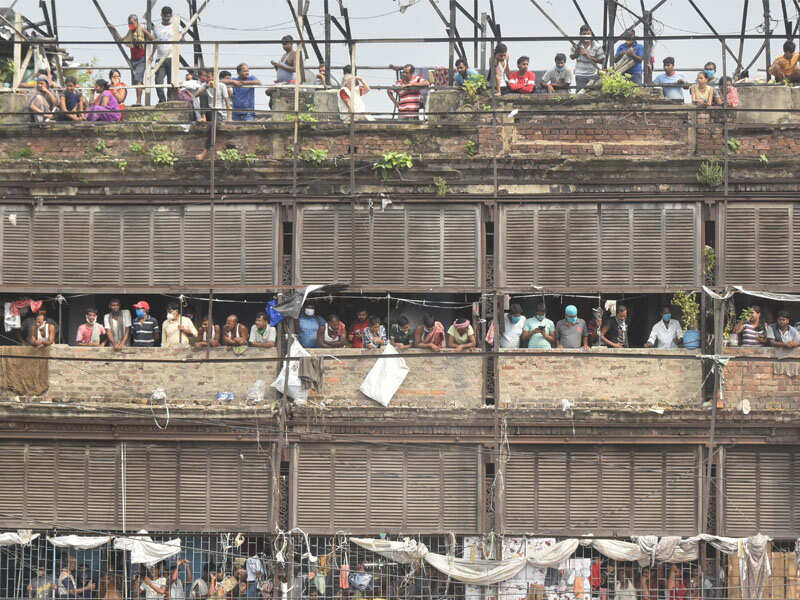 Locals watch BJP rally near Howrah Bridge
The Santragachhi rally was led by Raju Bandyopadhyay, Sayantan Basu and Purulia MP Jyotirmoy Singh Mahato. The first attempt at breaking the barricade occurred around 12.30pm, prompting a police pushback that included spraying rallyists with water laced with blue dye. BJP leader Bandyopadhyay was hurt in the melee and admitted to a private hospital off EM Bypass.
Traffic in central Kolkata, Howrah and the approaches to the city from Howrah and Hoohly took a major hit, with a semblance of normalcy returning only after 3pm.
Source: https://timesofindia.indiatimes.com/city/kolkata/bricks-bombs-vs-baton-coloured-water-jets-in-bjps-covid-season-rally/articleshow/78563845.cms