'The energy and perseverance of everyone around me — to not only survive 2020 but become the best version of themselves despite the unique challenges we're facing every single day'
---
---
Smita Shroff moved to Hyderabad three decades back but her "fondest memories" still revolve around Calcutta. So, when she and her husband Rajiv decided to bring Elahe — the popular multidesigner store that they run together — to Calcutta, it was revisiting the "lights, smells and sights" of the city once again. As Elahe on Ritchie Road (opposite St. Lawrence High School) turns one, Smita looks back on the journey and the road ahead with The Telegraph.
Congratulations on completing a year! You had said Calcutta was a natural choice as it was a homecoming. In what way has it been worth venturing out of Hyderabad in 20 years?
Oh what a year it's been! This was our first adventure outside Hyderabad and Rajiv and I went into it with lots of intuitions and almost as many apprehensions. It's been totally worth it. The city has been receptive and the designers have found a new address. We barely got five months of normal operations before the coronavirus halted life as we know it. The store had a promising start but it was abruptly hurled into alien-esque environments. Given the brief window during which our store remained open, the fact that our customers continued to shop with us over WhatsApp chats and phone calls is a testament to the trust and confidence we have garnered as a brand.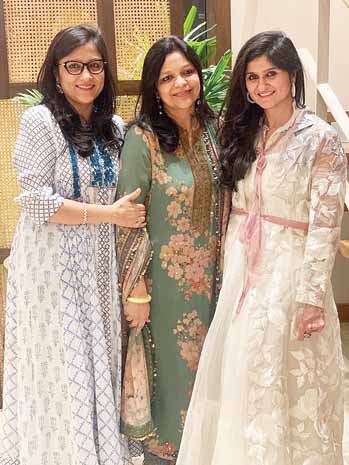 Did your perception of Calcutta match with the reality?
When we opened the Calcutta store, the team went in with a decent grasp of the market needs and preferences in the city, and how to curate for a Calcutta customer. For starters, we were right on the mark about there being the need of a multidesigner store like Elahe in Calcutta, thankfully. The range of designers that have done well has been phenomenal. We've done really well with everything from traditional bridalwear to edgy contemporary looks. We went in knowing that the customers in Calcutta are not price sensitive but price aware, and the intuition proved correct. What surprised me was how receptive the city is towards new designers.
I think a lot of the credit for the store's success in such an unexpected year goes to my local partners, Ruchira Agarwal and Manjari Tibrewal.
What changes took you aback?
What sticks out in my mind is how the industry reacted to the unusual year. Almost as a knee-jerk reaction, the designers decided the 'market is bad'. This took me by surprise. Of course, 2020 has been challenging in more than one way but after we got into a lockdown rhythm of sorts, both Rajiv and I realised that the demand had not only survived but in a lot of ways, was amplified. The designers did have an uphill battle to continue production during the pandemic, this goes without saying, but a bad market or a lack of customers was a misconception.  
Let us in on the celebration plans…
Ruchira, Manjari and I have curated a series of edits keeping the Calcutta customer in mind, starting today. Watch our Instagram page to get a glimpse of the new designers and looks we're launching as a part of our first anniversary celebrations. We've added Torani, Vrisa, Shriya Som, Lovebirds, Vipul Shah and so many more to the Calcutta store. There's something for everyone, for every occasion, and for every mood.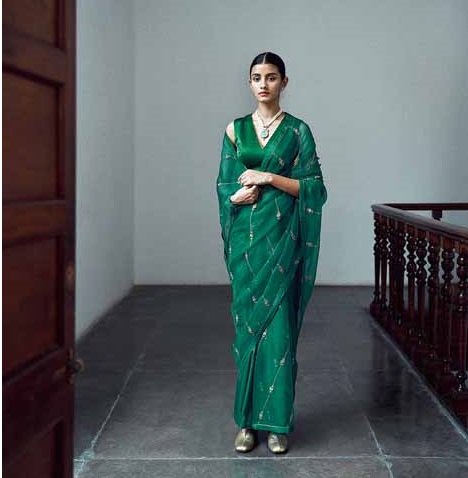 We've also gone online! Our online store at www.elahe.in brings the same tasteful curation with an unparalleled roster of designers that Elahe is known for.  Brands like Sabyasachi, Raw Mango, Anamika Khanna, Gaurav Gupta, Chola, Pero, Lajjoo C, Anushree Reddy and so many more have partnered with us to create a new shopping experience. For the first time ever, Sabyasachi has gone online with his fine jewellery, exclusively at elahe.in.
Finally, we're launching our loyalty programme for our customers at the Calcutta store to commemorate our first year.
As a fashion entrepreneur, what gives you hope in these gloomy days?
The energy and perseverance of everyone around me — to not only survive 2020 but become the best version of themselves despite the unique challenges we're facing every single day. I find hope in the fact that humanity has found its way back into business. A lot of industries, including ours, are taking steps to not only survive this but make sure every employee and every karigar makes it through these uncertain times.
The verdict on luxury is divided. What is your personal take on it?
I wasn't even aware there was a division! We can never do away with luxury. Luxury is intertwined with aspirations. The meaning of luxury, however, is redefined over and over again. Luxury is how we contextualise our beliefs. For some, luxury could be materialistic, to others the artistic process is luxurious. Luxury could be extracted from the ethical footprint of a product, or something as simple as memories. To me, owning my grandmother's wedding sari is an item of luxury, to someone else, it could be an unnecessary attachment.
How is the Indian shopper thinking now?
Initially, everyone was paralysed by the uncertainty of the lockdown but as months have passed, they've started rescheduling weddings, meeting family and friends, and on a lighter note, dressing up for something other than a Zoom call!
With day-to-day activities resuming, albeit in pandemic-friendly ways, the Indian shopper has started to think about fashion and clothes again! The Indian shopper is driving the fashion industry instead of the industry dictating their consumption. With uncertain times, shorter budgets, and unexpected delays, the designers are not eager to make extravagant collections but are instead giving the customers exactly what they want— tried-and-tested styles, crisper edits, tight delivery schedules and value-for-money garments.
Classics will rule for some time to come. Can you pick five classics for us?
Straight kurtas, woven saris, a white shirt, a versatile dupatta and a confident smile.  
Source: https://www.telegraphindia.com/culture/style/with-elahe-in-calcutta-turning-one-it-is-celebration-time/cid/1793289