The Mahindra Scorpio in which she was travelling rammed into the rear of a stationary truck at Dadpur on Durgapur Expressway killing her guard and driver as well
---
---
The first woman officer in Calcutta police who became a police station chief in the city died in a road accident on Durgapur Expressway, in Hooghly district, early on Friday.
Debasree Chatterjee, 49, who was posted as the commandant, 12th battalion of the state armed police, her guard Tapas Burman and driver Manoj Saha were declared dead at the Hooghly Imambara Sadar Hospital.
Chatterjee, whose office was in north Bengal, was returning home to Calcutta when the accident occurred around 6.25am, sources close to her said.
The Mahindra Scorpio in which she was travelling rammed into the rear of a stationary truck at Dadpur, around 70km from the heart of Calcutta.
Preliminary investigations by the Hooghly Rural Police suggest that the vehicle was travelling at a high speed and a possible reason for the accident was that the driver had dozed off.
Chief minister Mamata Banerjee tweeted: "Deeply grieved to hear about the demise of Debasree Chatterjee, CO 12th Bn in an unfortunate road accident on Durgapur Expressway… My condolences to the family of the deceased."
A senior police officer said the cause of the accident could only be ascertained after the vehicle was subjected to mechanical and forensic examinations. The tests will rev-
eal whether the vehicle had any snag that led to the accident.
The mangled remains of the Scorpio had to be separated from the truck with a Wrecker before the three bodies could be extracted. Chatterjee was sitting in the middle seat, while her guard was sitting next to the driver.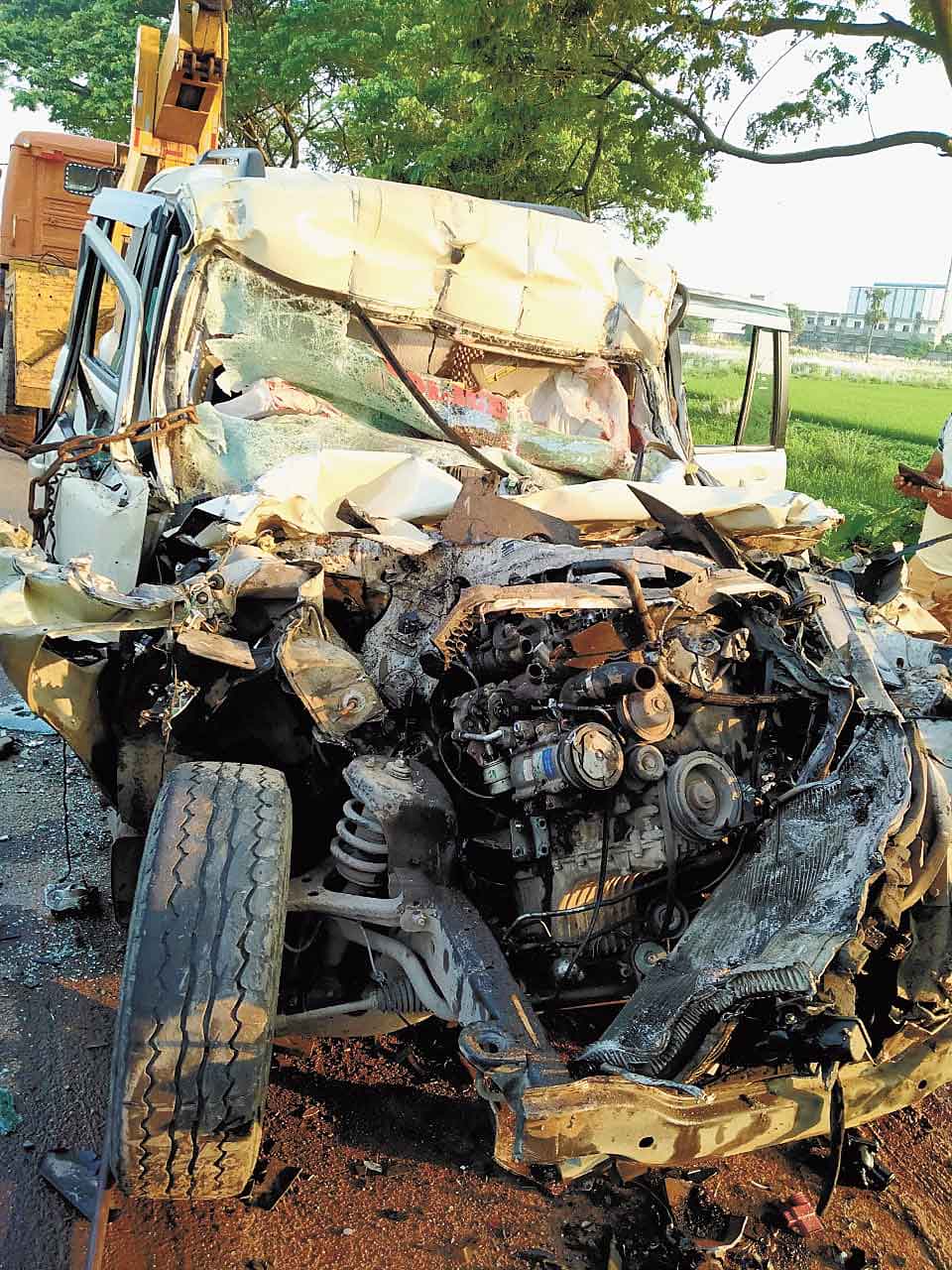 Chatterjee, who earlier served as an assistant commissioner and a deputy commissioner (women) in the Calcutta police, was the first woman in the force to have been assigned the responsibility to lead a police station, a job usually handled by men.
A graduate in geography, Chatterjee had joined the city police force in 1988. She started her career as a sub-inspector in the women's grievance cell at Lalbazar. She worked at Park Street, Ekbalpore and Hare Street police stations before joining the cyber wing at Lalbazar. She later became the chief of the immoral trafficking wing of the detective department.
In 2010, Chatterjee became the first woman in Calcutta police to be appointed the officer in charge of a police station – North Port.
Mother of one, Chatterjee was known for her "never say die" attitude and her efficiency.
Source: https://www.telegraphindia.com/calcutta/first-woman-oc-in-calcutta-police-dead-in-road-crash/cid/1791694