KOLKATA: As the clock struck 5 on Thursday evening to ring in a stricter make-or-break lockdown to control the runaway spread of the novel coronavirus, many more addresses and localities in Kolkata than the 25 that figured on the list released by the state discovered they, too, were locked in.
Residents of several neighbourhoods were taken aback when police trucks rolled in and sealed off access points with steel barricades. At Selimpur, opposite Jodhpur Park, a locality near Milan Park was sealed off and all shops and business activities in the area were asked to close down for a week.
TimesView
A lot depends on this round of lockdown. This phase may determine whether we will be able to contain the virus's spread. It is imperative for everyone — and not only those staying within the new containment zones — to follow all health precautions and behave responsibly.
The police took similar action in Garia Balia, Baguiati, Jagatpur and Dum Dum Italgachha Road. None of these had figured in the containment list, but were locked down anyway.
The administration's renewed seriousness came on a day of a grim milestone. The number of new cases crossed the 1,000-mark for the first time in Bengal. With 1,088 new positives, the state's active cases now stand at 8,231. Kolkata, too, saw the biggest day's surge: with 322 new overnight additions, the city's total-active-case count is now 2,910. There were 27 new deaths throughout the state, bringing the toll to 854; of these, 13 were from Kolkata alone, where the updated toll is now 457.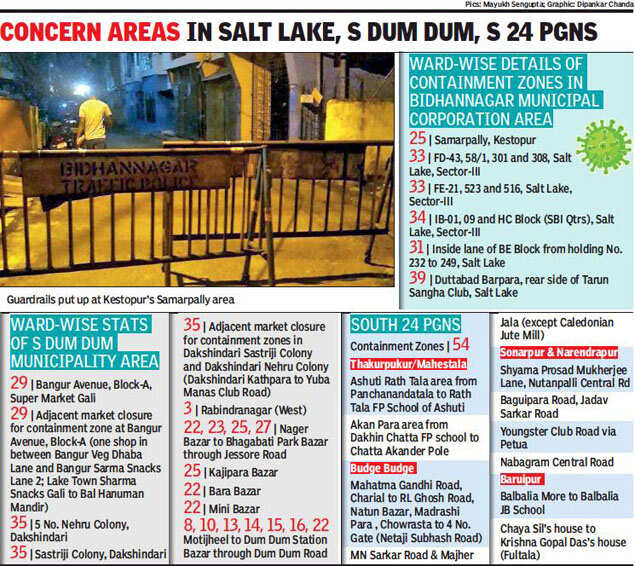 Of the districts, North 24 Parganas has the largest number of containment zones (95), followed by Howrah (56) and South 24 Parganas (54). Three districts — West Burdwan, Jhargram and Cooch Behar — have no containment zones.
That the police were serious about enforcing the containment orders strictly was evident since the morning, when top cops visited the neighbourhoods that were to be locked down from evening. Joint CP (crime) Murlidhar Sharma visited Sarat Bose Road and Chakraberia, and deputy commissioners were out in full force at Maniktala, Behala and Alipore. Special CP Jawed Shamim took reports all through the day even as he ensured that cops on duty in containment zones took adequate protection if they needed to visit any home.
An officer said there would be more restrictions in the evening to ensure no violations, a lesson they had learnt during the initial containment phase. One of these measures is to maintain special vigil on shops and markets in containment zones. If these stay shut, residents will not step out, the cops believe. The cops have been asked to shut down tea stalls and all other non-essential activities in locked-down areas. They have also been asked to send home anyone found outside without a face mask.
Later, once the lockdown had started, it became clear that the cops meant business. In Ultadanga, a tea shop and a ration shop, where there was a queue of people, were shut. At nearby Maniktala, the cops had to use lathis to send home people they saw roaming on the streets. In the south, at Bhowanipore, several people who had ventured out without masks were sent home. Even in areas outside the containment zones, senior officials were seen directing local standalone shops to follow social distancing norms, or risk facing closure.
The cops, however, took care to ensure residents of 'safe buildings' in 'mixed areas' — such as Bijoygarh, Behala Sakherbazar and GS Bose Road in Kasba — could continue to lead a near-normal life.
"All areas had multiple houses that needed to be barricaded. In some places, that meant keeping around 300 to 400 people in containment, as the distance between affected houses is 250 to 500 metres. This has allowed residents staying in between to avoid the containment zone. In east Behala, for example, we broke the two zones into four clusters," explained an officer at Lalbazar.
There was no such problem with housing complexes. Six high-rise complexes and multiple standalone buildings in Alipore, Bhowanipore, Phoolbagan, Behala, Ultadanga and Kasba in containment zones were cordoned off with guardrails by cops. Policemen were posted outside most houses.
Residents were asked to stay home and step up to the gate to collect daily essentials. Entry of domestic helps and e-commerce delivery personnel has been prohibited in most of the buildings.
Health workers took swab samples of residents in Telengabagan near Ultadanga, which has been completely sealed for the next seven days. "We have also sanitised the whole area and provided masks to residents," said a KMC health worker. At Khotta Bagan in Kankurgachi, cops cordoned off an entire lane, preventing auto and cycle rickshaws from plying. Residents will be allowed to step out only to purchase groceries and medicines.
Overall, although traffic movement has not been directly affected, bus operators said there would be fewer buses from Friday, as many drivers and conductors who live in containment zones would not be able to report to work. While 3,000 buses operated on Thursday, operators estimated a 40% reduction in service on Friday.
Also, though no locality or road in Kolkata has been declared a containment zone, cabs at Kolkata airport refused to travel to areas in which some buildings figured on the containment list. Those returning in flights had to cough up a premium to reach their destination.
Source: https://timesofindia.indiatimes.com/city/kolkata/cops-get-cracking-at-5pm-as-more-areas-put-under-stricter-lockdown/articleshow/76883609.cms